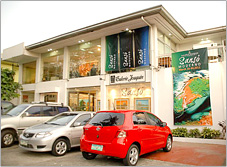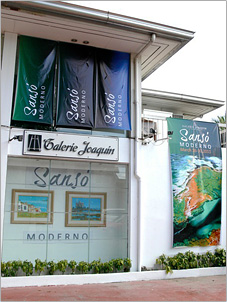 About Galerie Joaquin
For over a decade, Galerie Joaquin has been at the forefront of Philippine visual art. Established in 2002, in the City of San Juan in Metro Manila, Galerie Joaquin has since expanded to include several branches and sister galleries. It has focused on its mission of providing quality artworks to its art clientele ranging from the works of established and top-notch masters to some of the most exciting contemporary visual artists of today.
Conceptualized to be an artist-centered gallery, Galerie Joaquin provides a number of art development programs and activities to the art loving public via the artists it represents. It also runs a number of education programs, talks and seminars as well sessions with the pertinent artists to inform collectors and the general public on the values of visual art and the various ways to approach and interpret individual artworks and exhibitions.
Internationally, Galerie Joaquin was the first Filipino gallery to set up shop in Singapore. It was also one of the first Philippine galleries to have worked with international auction houses Sotheby's, Borobudur, Masterpiece and Larasati. The galerie hosting the first two annual previews of Philippine art in the country by auction giant Sotheby's. In the past eight years, the galerie has been host to some of the most important one- man exhibitions of modernist masters including four major shows of National Artist Arturo Luz, the final four major exhibitions of National Artist Federico Aguilar Alcuaz, all the major exhibits of Presidential Medal of Merit Juvenal Sanso as well as the largest and most important one-man exhibition of National Artist Abdul Mari Imao.
The galerie has been responsible for launching the career of the master of neo-genre painting Dominic Rubio. It has also conceptualized a series of exhibits of works from important modernists in its specially focused series of shows titled Masters of Modernism. Featured artists have included Justin Nuyda, Angelito Antonio, Mario Parial and Lydia Velasco. Recently, the galerie has agreed to collaborate with renowned sculptor Eduardo Castrillo as well as internationally renowned surrealist Raul Lebajo for special one-man exhibitions as part of it's The Masters series. The galerie has also presented works of exciting contemporary artists such as Eufemio Rasco IV, Jerry Morada, Vincent de Pio, Aileen Lanuza and Jomar Delluba as well as genre artists Aljo Pingol, Richard Arimado, Jovan Benito and Glenn Cagandahan .
Artworks by:
| | |
| --- | --- |
| Aguilar Alcuaz | Daniel de la Cruz |
| Arturo Luz | Vincent de Pio |
| Abdulmari Imao | Eufemio Rasco IV |
| Sanso | Jerry Morada |
| Ed Castrillo | Aileen Lanuza |
| Raul Lebajo | Jaspher Penuliar |
| Orlina | Aljo PIngol |
| Angelito Antonio | Edwin Tres Reyes |
| Mario Parial | Karina Baluyut |
| Justin Nuyda | Glenn Cagandahan |
| Lydia Velasco | Jovan Benito |
| Michael Cacnio | Richard Arimado |
| Dominic Rubio | Jomar Delluba |
| Carlo Magno | Aldrino Abes |
| Toti Cerda | Amador Barquilla |
| Juanito Torres | |